Residential real estate prices, after years of boom, look to be rolling over.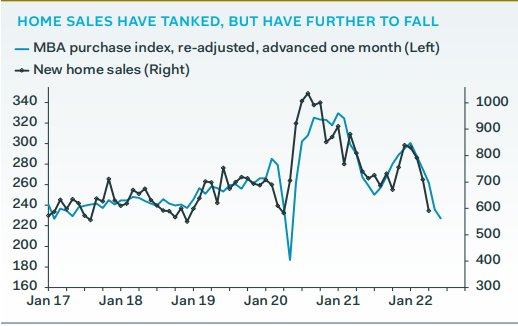 Why have prices rolled over? Simply, it is a matter of price – the price of a house, which has gotten too high and the price of money (ie.mortgage interest rates) which have gotten too dear. Chart 2 below looks at the eToro US housing "misery"index and this picture demonstrates the case.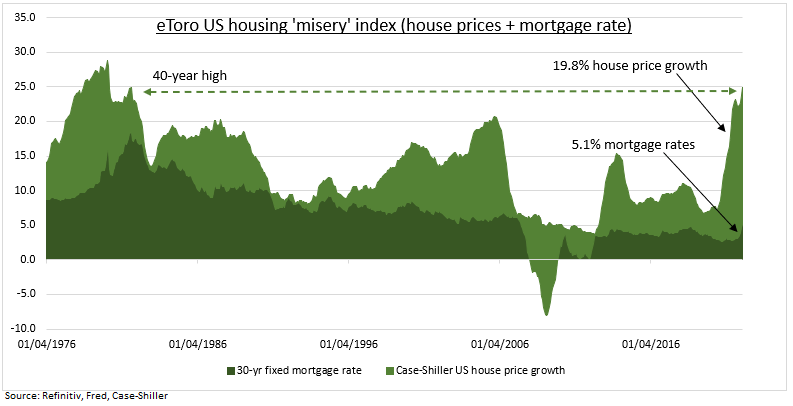 This rollover observation is important because housing represents about 17% of US GDP (Gross Domestic Product) split between construction and remodeling at 5% and housing services (including rental payments) at 12%. In short, housing "punches far above its weight" as a driver of how markets think about the economy. Housing represents a 30% weighting in the CPI (consumer price index). Price declines in residential real estate will dampen inflationary pressures. Already about 20% of home sellers have lowered their selling price during the four week period ended May 22, according to Redfin, a large real estate brokerage. This is the highest rate since October of 2019. Further, the Redfin Homebuyer Demand Index, a measure of requests for home tours and other home buying services, has dipped 12% year over year – the largest decline since April 2020 in the midst of the Covid pandemic.
Inflation has been investors' primary concern in 2022. As a result of this worry, interest rates have risen – while bond and equity prices have fallen. It has not been comfortable in the markets so far this year. If inflation has peaked, then the Fed will not need to be as aggressive in raising interest rates as markets are presuming now. Lower than anticipated interest rates would spark bond and stock market rallies. There are many sources of inflation including food and energy. But one of the biggest, with a 30% weight in the CPI , looks to have been "taken off the table".
P.S. Just announced, another inflation measure, the core Personal Consumption Expenditure Index for April came in at +4.9% vs.+5.2% on a year over year basis.