In 1992 George H.W. Bush proclaimed, "We can reap a genuine peace dividend this year and then year after year, in the form of permanently reduced defense budgets".  As can be seen in the following chart, the U.S. did spend less on defense –  lowering its expenditures as a percentage of Gross Domestic Product (GDP) from approximately 6% in the early 90's to approximately 3% today.
CHART 1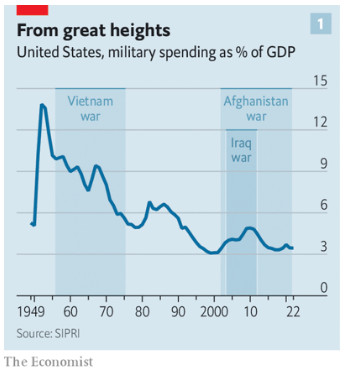 In a growing economy, that reduction in defense spending allowed a lot of money to be spent on other government programs.  Unfortunately, it is expected that this "peace" dividend is going to be cut. Foremost in reasons for the expected cut is Russia's invasion of Ukraine.  But there is also worry about a future war between China and Taiwan in the South China Sea.  North Korea is sounding more bellicose and who can forget Iran as a pot stirrer in the Middle East.  It is estimated that total new defense commitments, if enacted, would generate over $200B in extra spending globally each year.  If other countries joined the fray, that expenditure could rise to approximately $700B/year in extra spend.
For the foreseeable future, countries will arm up.  More howitzers, shells and bullets in addition to drones, planes and submarines as well as cyber weaponry will be purchased and deployed – because people feel unsafe and the first duty of any government is to keep its populace safe.  Worldwide globalization is being reshaped.  Easy corporate decisions as from where to source supply yesterday have become more difficult today.  This military and business environment change is significant and will be with us for quite some time, providing investment opportunities for investors.
RESILIENT……..
The American economy may not be the fastest grower in the world, but it is certainly resilient. The latest government statistics to demonstrate this U.S. strength are the May employment figures. Employers added 339,000 jobs during the month and previous months' numbers were revised upwards by 93,000.  The unemployment rate rose to 3.7% from 3.4% – still near record lows for this figure.
CHART 2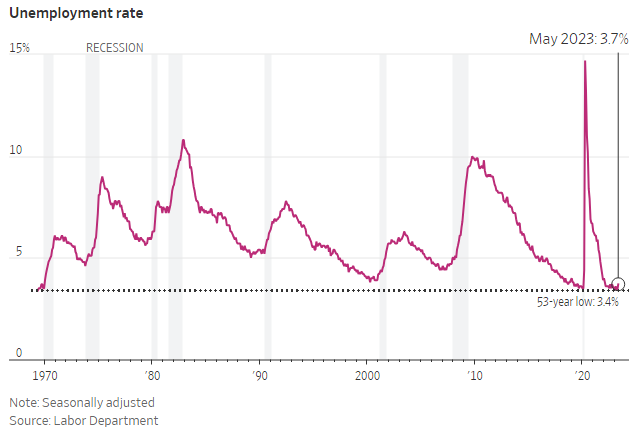 Further, average hourly earnings rose 4.3% year over year as expected, signaling that employee costs are becoming more settled.  Interviews with employers also suggest that it is easier to hire today than it was several months ago, which should further tamp down employee costs and wage inflation.  All in all, it was a welcome report.